Zara's parent company Inditex has left no stone un-turned to promote Zara as an ethical and sustainable brand. From adding eco-friendly clothing to their JoinLife collection to producing recycled boxes to increasing the lifespan of clothing, they claim to be doing it all. Their site also states that its products are in regulation with the health, safety and environmental standards.
But hear hear, aren't we forgetting a little something? Zara also happens to be kind of a trendsetter for fast fashion.
Whilst we can't deny it's a good thing that they have created initiatives toward more sustainable and eco- fashion, but we are left questioning whether it is all for self-promotion or if they really believe in improving their ethical and social values ? If I reflect on their new clothing line which has been added to the JoinLife Collection, it makes me wonder how they are able to sell a sustainable dress for £30! With all the work they are said to be doing for the environment it is hard to pinpoint Zara as a non-ethical brand. But can this all just be greenwashing?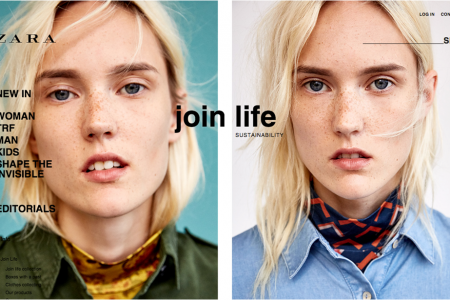 Zara launched their first Join Life range in September 2016. It started installing collection bins in stores across Europe, as a response to the enormous volume of clothing going to landfill that could have been re-worn or recycled. Zara has ever since been actively promoting its in-store recycling initiatives, which allow customers to drop off unwanted items in boxes marked as "fashion bins".
However, according to Emily Bezzant, head analyst at fashion tracking company EDITED, the Join Life pieces only make up 1.5 percent of ZARA's whole collection which makes it a very small, although positive, step. Another noteworthy fact is that the high production rates at ZARA, were reported to be over 1,018,995,911 units in 2014. So, even though the company has been making efforts towards sustainability the fact still remains that their model needs a rectification.
For Zara to be truly sustainable it needs to stop spending more time and money claiming to be "green" and actually start implementing practices that minimise their environmental and ethical impact.
Tags: 2017, apparel, CSR, environment, Ethical Fashion, ethics, fairtrade, fashion redefined, Fast fashion, greenwashing, high street brands, purchase with purpose, slow fashion, social, street style, sustainability, Sustainable Fashion, Zara