Original source: Vogue.co.uk
Last weekend British Vogue held their third annual Festival at London South Bank. This year Fashion ComPassion were there to witness all the glory! Featuring inspiring talks with the industries most influential people, from renowned designers, world's top models to the fashion editors. If you didn't manage to get a ticket in time, don't worry because you can get a Fashion ComPassion insight on what went on. We attended the second day talks Fashion Beauty and the Digital Revolution, Fashion Legends and the Want To Work in Fashion Masterclass.
Fashion Beauty and the Digital Revolution held discussion on topics such as Mary Katrantzou's social media interactions, Pixie Geldof's instagram success, Miroslava Duma BURO 24/7 website putting Russia in a fashion spotlight and Nick Knight's digital career. "Digital allows freedom of speech" – Nick Knight comments on the current digital revolution.
At Fashion Legends the speakers were none other than Naomi Campbell and Vogue Italia editor Franca Sozzani. The discussions were very interesting, focusing on such topics such as the famous Vogue Italia, Rebranding Africa Cover Story, with the aim of showing Africa in a positive light. According to Sozzani; Nigeria, Burkina Faso and Ghana are leading the way in fashion, craftsmanship and fabrics. What does this say about the future of sustainable and ethical fashion?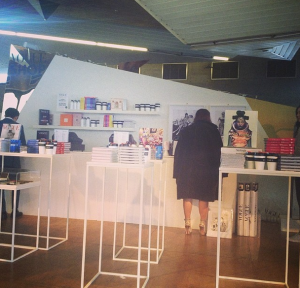 Along with the talks, many other events were taking place. Book signings commenced by iconic fashion photographer Nick Knight and Grayson Perry, the venue was also buzzing with workshops. A great feature of the festival was Harrods Live, have you ever wanted to just get a makeover by Bobbi Brown and strut down a runway? Harrods live allowed guests to do just that, with a chance of winning a £1,000 gift card. If that wasn't enough Harrods provided a Café and a favourite with the supermodels; the delicious health juice bar by Calgary Avansino.
We found the perfect souvenir shop, fancy brushing shoulders with the likes of Pixie Geldof? The Vogue shop, stocked with great books, t-shirts, jewelry and other lovely treats to take back home as a memory.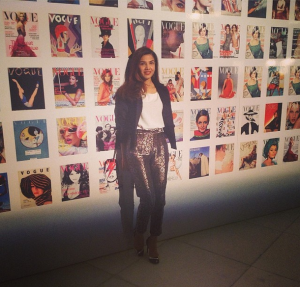 We learnt a lot, met a lot of interesting people and even took part in a show and tell to meet the Vogue editor. Definitely keep your eye's peeled this time next year for Vogue festival 2015, make sure to snag those tickets early to avoid missing out!
Tags: Africa, Alexandra Shulman, British Vogue, Ethical Fashion, fashion, London, magazines, Naomi Campbell, Sustainable Fashion, Vogue Festival, Vogue Italia