Florie Salnot is a designer working in the area of social, service and UX design. The vision behind, and motivation for her work is to use design as a medium to improve people's life, to strengthen individual and cultural confidence and to enable independent living. Florie believes in a collaborative approach with people all along the design process. This particularly includes creative and empathic research methods to gain first hand insights.
Participants of the first Plastic Gold workshop, refugee camp of Dakhla. (Photo via floriesalnot.com).
The Plastic Gold project was developed by Florie to empower Saharawi refugees through design.The Saharawis are former nomadic people who used to live in Western Sahara. In 1975, Morocco annexed their territory. Since then, over half of them (around 150 000) have been living in exile in a remote stretch of the Sahara desert, waiting to get their land back. The Saharawi refugee camps are located in one of the most hostile and barren desert of the world, in the south-western corner of Algeria. In these camps, there is virtually no work and resources. The Saharawis are dependent on precarious aid flows (food and other essential aid for survival).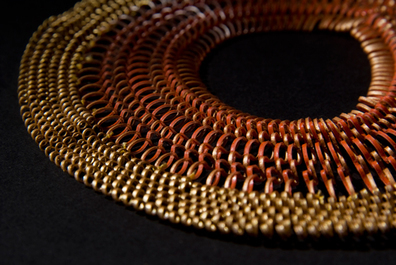 Inspired by the traditional jewellery worn by the Saharawi people, Florie devised a craft which the women could practice despite their limited resources. By using hot sand, basic tools and spray paint, the refugees could recreate traditional Sarahawi necklaces and bracelets from discarded plastic bottles.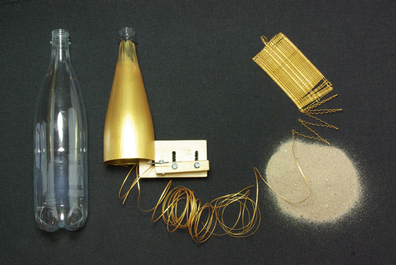 Not only did the project offer Saharawis a sustainable way for generating income but provide the refugees with an activity that could strengthen their self-esteem and express their individuality.
Plastic Gold project was shortlisted for this year's Jameel Prize and is currently on display at the Victoria & Albert museum in London until 21st April 2014. For more information, visit the V&A website.
Plastic Gold was supported by London-based Sandblast charity, promoting Saharawi refugee voices through the arts.
For more information about Plastic Gold, visit the Plastic Gold website.
Tags: Algeria, bracelets, craft, designer, Empowerment, Florie Salnot, individuality, Jameel Prize, Jewellery, necklaces, Plastic Gold, recycled, refugees, resources, Saharawi, Sandblast, social design, traditional, women