Fashion Compassion is proud to announce that Inaaya jewellery is now available from our online shop. Inaaya is a socially conscious fashion brand which combines classic Sindhi design and embellishment techniques with artisanal production and interprets them through the lens of contemporary fashion. This is the first brand from Pakistan that Fashion Compassion will be selling, so we thought we'd do a post about Inaaya and what they do to help those who produce the goods.
Innaya Reverie Durri Necklace – Handmade 5 tiered choker embellished with hand embroidered brooch. (Image courtesy of Inaaya)
Inaaya derives their name from the Arabic word for empathy, the capacity to recognize and share the feelings of others. It's a concept which is at the heart of their business and one they feel is lacking in today's world. Thousands of craftsmen live below the poverty line in the most trying conditions, their families sometimes malnourished due to their inability to provide for them. Struggling to make ends meet, with education out of reach, broken political systems and only large corporations to exploit them, most craftsmen don't have the means to change their lives. Nonetheless, they continue to work with pride, integrity and passion hoping that somewhere, their life's work will resonate with someone and change their circumstances.
Disparaged during the mass commercialisation boom, these skilled workers are finding a renewed sense of purpose by providing unique, impeccable hand-made products which are now finding a world wide audience with receptive customers who are eager to embrace the 'one-of-a-kind-finds' trend, especially in the fashion, home goods and soft furnishings industries.
By commissioning the production of, and facilitating the sale of these hand-made products, Inaaya hope to play a part in stemming the growing income divide, and alleviating the the quality of life for many honest, deserving workers and their future generations.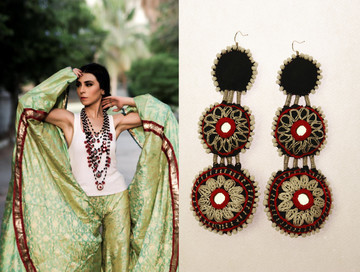 Inaaya currently works with female artisans in rural impoverished areas of Pakistan where the infrastructure and poverty issues are compounded by women's rights issues. By providing contractual employment based on productivity, Inaaya gives their workers the chance to gain a supplemental income without neglecting their pre-existing responsibilities. This arrangement stands until both parties are comfortable with full time employment. In both scenarios, the employment empowers the workers and allows them to better their living conditions as they deem fit.
Inaaya's philosophy is simple. Create progressive designs using traditional materials and techniques. By buying Inaaya jewellery, you are not just shopping with a conscience. You are also preserving another rapidly diminishing virtue; Compassion.
Tags: Compassion, Empathy, Empowerment, Ethical Fashion, fairtrade, Hand-made products, Inaaya, Jewellery, New Brand, Pakistan, Shopping with a Conscience, Socially Conscious, socially responsible, Sustainable Fashion, women's rights