Dona Paula: The Brainchild of a Not-So Lazy Millennial by Marium Masood
Apart from the wealth of wisdom and ease of modern life, the older generation gave us two unshakeable curses. The first being our current climate crisis, and the second being the stereotype of 'lazy millennials'.
Ninoshka D'Souza, however, challenges both these curses. The twenty-two year old changed her academic path from film to fashion and is currently planning the launch of her very own ethical clothing line, Dona Paula. This millenial's uniqueness doesn't stop short at her not-so lazy environmental ethic, but flows through into her brand ideology i.e. fully customizable, reversible clothing that actually looks good. What sets her brand apart is the ability of each piece to be worn in eight different ways – a feat that is impressive in light of the fact that a single tee is worn 4 times on average.
"The biggest turning point was probably after the Factory Collapse in Rana Plaza in 2013. It opened up a can of worms that I couldn't escape from, and my shopping habits have never been the same. I knew that I couldn't remain complacent in an industry that systematically disenfranchises the poor, so I've decided to work against it." – D'Souza.
And so, Dona Paula was born. Named after a beach in Goa, the brand embodies a carefree and vibrant attitude with an environmental mission. Their buy-back program encourages consumers to make the most of their purchases by wearing them in each of the eight different ways before selling them back to Dona Paula. The business then goes on to reuse and up-cycle the fabric.
"People need to consume less and wear their clothes longer. I think that people our age are increasingly investing in experiences instead of material things, and I wanted to create clothing that would encourage travel and adventure. Imagine how much lighter your baggage would be if you only had to pack a dress and jumpsuit instead of 8 individual items! I also hate that Fast Fashion has created a culture of mindless consumption. So I thought, if people had more use for their clothes, maybe they wouldn't feel the need to throw them away." – D'Souza.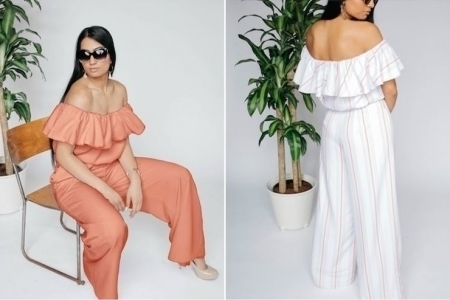 Dona Paula goes live on July 1st at 10am EST, subscribe to their website to stay in the loop.
Marium Masood writes on both sustainability and fashion blogs, you can read more on Marium's previous post for us, Conscious Consumption: The Broke College Student's Guide, and also her latest feature on Positive Planet's blog. 
Tags: accessories, Capsule Collection, clothing, conscious consumers, cruelty free, ecobrands, ethical clothing, Ethical Fashion, fashion, Fashion ComPassion, fashion redefined, Fashion Revolution, minimal wardrobe, New Brand, purchase with purpose, recycle, sustainability, Sustainable Fashion, upcycle