We wrote about Fashion Revolution Day day events in London here in our weekly feature, but since the day was celebrated by the other participants around the world we wanted to share how this with our readers! Here in London, our team attended the Designer Jumble at Westfield Stratford. It was a great opportunity to view many rare vintage designer clothes, watch Susie Bubble design the display, watch knitters create one of a kind pieces and mingle with many like minded people. Here are some pictures from the Designer Jumble event in London.
Photos of inside Design Jumble.
We also got in touch other countries like Dubai, Spain and Australia to find out what went on in their part of the world to celebrate Fashion Revolution Day. Here's a round up.
SPAIN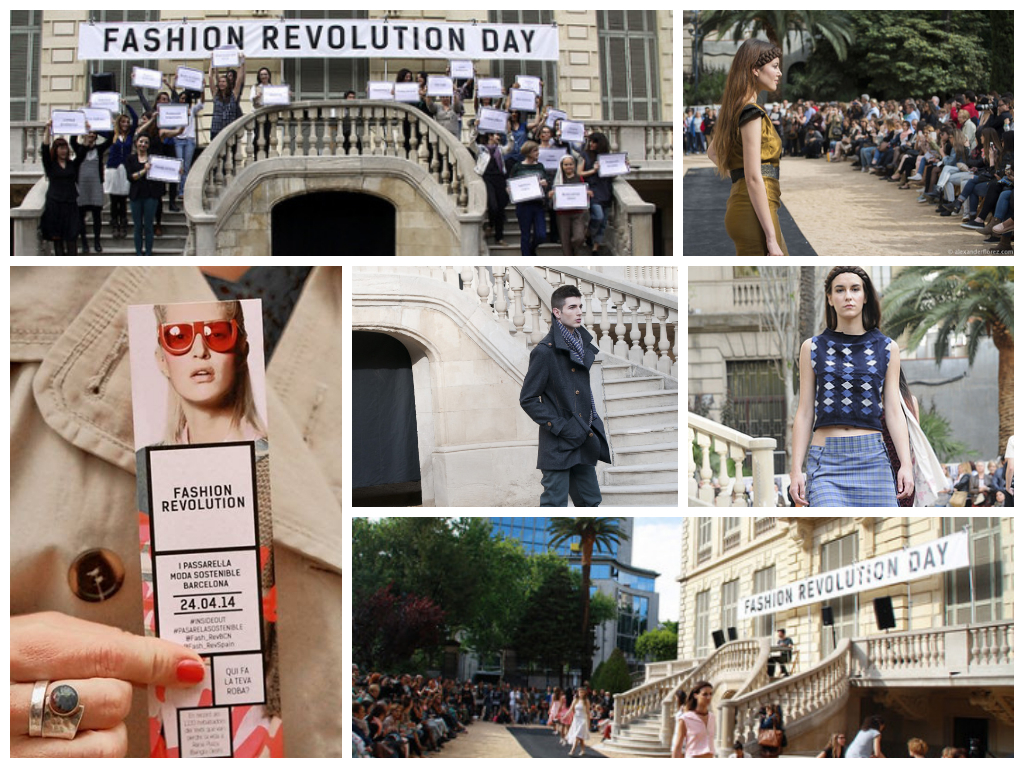 Spain contacted Carry Somers the founder of Fashion Revolution Day and took their own initiative to organise a sustainable fashion parade. The parade highlighted the issues in the fashion industry and what we can do to become more conscious consumers. The Parade was held in the beautiful Palau Robert, Gardens Palace. The event was free, and flyers were given out to encourage people to watch the parade. Take a look at this cool video giving us insight into what the day is about here.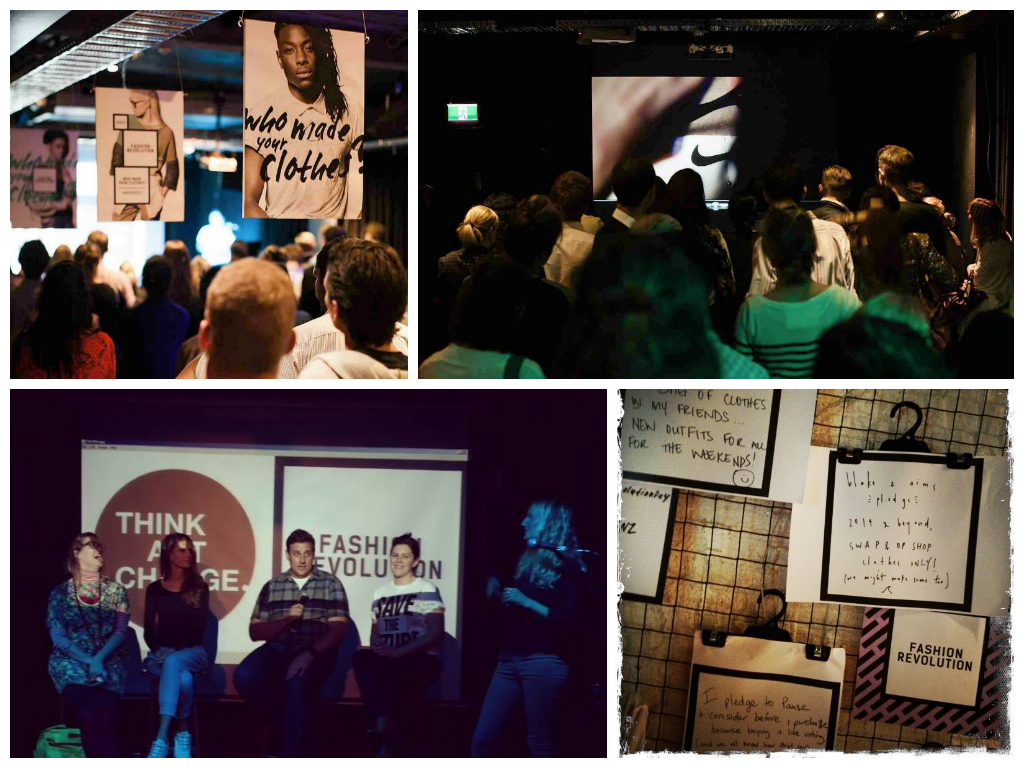 AUSTRALIA
Australia held three Fashion Revolution day events in Sydney, Melbourne and Perth. The Sydney event was a sold out night of talks including The GM of Patagonia Australia who spoke of supply chain transparency in their sourcing, an Australian social enterprise which employs refugees at their fashion store, spoke of fashion as a vehicle for social justice, Australian sleepwear label ALAS highlighted producing with fair trade partners in India and finally an ex fast fashion designer introduced her new upcycled clothing label Fairtale. There was a pledge area, prizes were given out for the best pledges and tweets of the night. Short Films were screened, including, 'Handprint' commissioned by Livia Firth, the trailer for The True Cost Documentary and A local design student presented her short film of a response to Rana Plaza, check it out in the video below.
In Melbourne two singers inspired by Fashion Revolution Day wrote a song, "Shopping Bags" by Sarah and Kate known as 'Worthy Skimishes' honoring the garment workers of Rana Plaza. They teamed up textile artist Susie Vickery based in Mumbai, India, she designed and animated the intricate film strip. Check out the track here http://worthyskirmishes.bandcamp.com/track/shopping-bags
In Perth, a collective of fair trade groups in Fremantle, Western Australia, launched 'Fairly Fashionable' a Design Challenge. On Fashion Revolution Day, over 50 designers selected a piece of fair trade material donated from fair trade producers around Australia. They have 14 days to incorporate these pieces into a new garment or fashion accessory. On the eve of World Fair Trade Day on 9th May, the challenge will culminate in a fashion show and final party where the winner will be chosen. Check out the website here http://fairlyfashionable.com.au/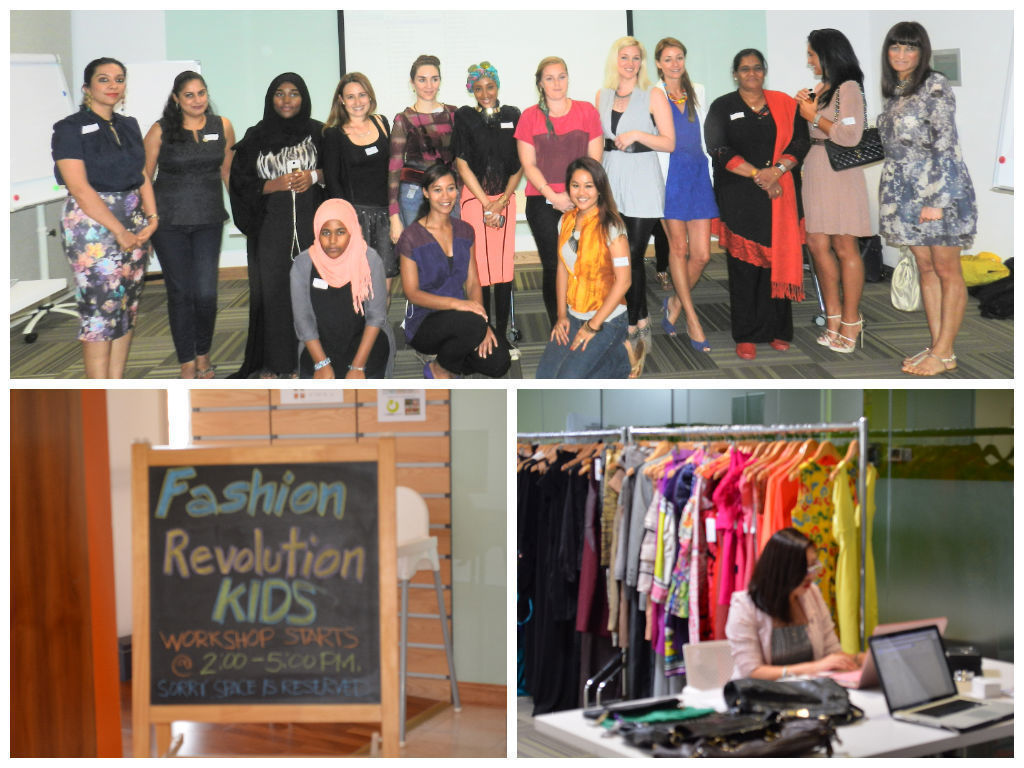 DUBAI
Future Fashion in Dubai hosted a successful event at The Change Initiative. It started with reMADE DBX who conducted a sewing workshop, local fashion business' My Ex Wardrobe and Shift Fashion talked about how their companies are helping people find a home for their old clothes in exchange for cash or new ones. Guests met Raya Ani, the winner of ZOOZOOM's Fashion Wars Live, she shared her thoughts and ideas on sustainable fashion. And finally the day ended with Project Runway Season 10 Contestant and celebrity stylist, Buffi Jashanmal who talked about how the Rana Plaza tragedy brought a shift in her thinking about how fashion was made and the people who created these pieces. Guests won free fashion consultation vouchers from Style Codes and Buffi's book along with a goodie bag which was sponsored by: Future Fashion, My Exwardrobe, Shift Fashion, Style Codes, Mom Souq and The Change Initiative.
With people becoming more aware of how fashion is made and the need for transparency and fairness in the Fashion industry, do you think retailers and bigger brands will embrace ethical practices in their business. What are your views, we would love to hear them!
Tags: australia, catwalk, Dubai, Empowerment, Ethical Fashion, europe, events, Fashion ComPassion, Fashion Revolution Day, London, Socially Responsible Fashion, spain