What is the name of your blog?
Tell us a bit about yourself
I am a sustainable fashion advisor and in 2009 I launched Rewardrobe, London's first Slow Style Consultancy. I created Rewardrobe out of my passion for Slow Fashion, which comes from my relationship with fashion that I nurtured while growing up in Italy – a nation whose long-standing high-quality manufacturing traditions are in complete antithesis with the whole idea of fast fashion. Cheap brands have hit Italy too, but more recently and with less impact than in the UK. So when I moved to London I saw the opportunity to bring my point of view and my experience to people in the UK who are interested in a more mindful approach.
I work with clients to advise them on how to match their personal style with a more conscious view of fashion, and I also work with brands to help them communicate their ethical values through various platforms.
What are your views on ethical fashion?
Ethical fashion can be many different things – it's about the materials used, or the way garments are manufactured, but it's also very much about how garments are perceived, and therefore used and maintained by the wearers. This is why I advocate the concept of Slow Fashion: it's about a holistic approach to quality and style, about re-evaluating the value of what we buy, and having a reason to buy clothes other than that they're available and affordable.
An informed consumer might do extensive research about the fabrics, or how fairly workers who made their clothes are paid, but not everyone goes so in-depth yet. At a more general level, I want to communicate a new philosophy that's about taking a step back from fast and furious shopping, and placing the emphasis back on quality, manufacturing, the experience of shopping for one's own style, and cherishing what we already have rather than wanting more and more.
What is your favourite piece from the Fashion ComPassion website?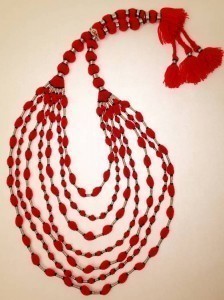 The Red Sindoor Durri Necklace By Inaaya– I am mad about necklaces, the bolder the better! This is suitably big for my taste, and it shows great traditional skills in the way it's made.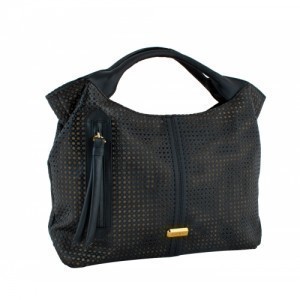 Tulip Black Bag By GUNAS – The classic bag every woman needs: it can be comfortable and useful but it doesn't compromise on beauty, quality or ethics.
Photo credits
In the past year and a half, I have been working on a side project called Up-Wardrobe, aimed at promoting upcycled fashion and designers. I have collaborated with a number of designers, giving them the challenge to upcycle old clothes from my own wardrobe.
I have recently shown the pieces for the first time in Manchester, at an event organised by the Stitched Up collective in partnership with Recycle For Greater Manchester. My picture is by the official photographer at the event. I am pictured with a head piece by Hatastic! and a neckpiece by Lumoi.
Other designers involved in the project so far are:
– Antiform
Tags: Ethical Fashion, Ethical Fashion Blogs, Fair Trade, Fashion ComPassion, Guest Blogger Of The Month, Hatastic, London, Lumoi, Manchester, Recycle For Greater Manchester, Rewardrobe, Slow Style Consultancy, Socially Responsible Fashion, Stitched Up collective, Sustainable Fashion, Veronica Crespi