What is the name of your blog?
Tells us about your blog and why you started it.
I started my blog way back in April 2009, when I was just starting to get interested in fashion. I had been reading a lot of other blogs at the time and really wanted to make one of my own! It's a good 'creative' outlet, where I often feature little DIYs and sewing projects. I recently 'rebranded' it as an ethical blog, although it has always featured lot of vintage & thrifted items.
Why is sustainable fashion so important?
Fast fashion is very much the norm, and I really didn't think twice about it before I read Lucy Siegle's book 'To Die For'. For me, the importance of sustainable fashion is definitely something that needed pointing out. Since reading the book, I just don't think I can go back to buying cheap disposable clothes. The way I see it is that in a world of finite resources and growing population, we really can't afford to keep producing clothing at the rate we do. At the same time, fashion is such an important cultural symbol. So I think the best solution at the moment is to make it as sustainable as possible.
How would you describe your style / fashion sense?
I'm not really sure how I'd describe my fashion sense! I tend to wear a lot of bright colours and 70s blouses, and I'd say I'm very influenced by 60s mod style. But since moving to Paris, a lot more grey and 'texture' has been creeping into my wardrobe.
Who do you admire in the world of sustainable fashion?
Anyone who has decided that they want to do something about sustainability issues and managed to achieve it, no matter how big or small!
What are your favourite ethical brands and why?
The first ethical brand I really became aware of was People Tree, and they are still one of my favourites. I love that they are able to produce clothes that are ethical but still fashionable (and affordable!). I'm discovering new brands every day, which is really really encouraging. Sites like Fashion Compassion are really useful for discovering new brands!
What are your top tips for buying ethical and sustainable products?
My top tip for buying ethical and sustainable products is to look for companies whose philosophy is based around being ethical, and that way you know it is genuinely important to them. It's also good to buy second hand, as this has very little environmental impact, but I try to remember to support the ethical companies too, or they can't continue to exist!
What are your 3 top picks of the Fashion Compassion website?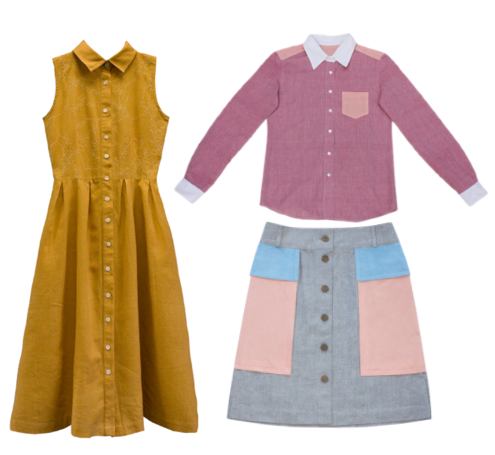 I really love the 50s-style Pineapple summer dress by Bhalo. Wouldn't mind one for a holiday wardrobe! The pastel coloured panels on the Bhalo Pocket skirt give it a really cool twist. I love the fact that it has hand-made coconut buttons! For lovers of mod fashion such as myself, this Bhalo Saturday shirt is perfect. Again, I'm a big fan of the contrasting pastel-coloured sections!
Sadie Wardrobe is also on twitter: @sadieswardrobe
Tags: 60s mod style, Bhalo, creative, cultural symbol, environmental impact, ethical, ethical companies, Ethical Fashion, ethics, facebook, fashion, Fashion ComPassion, Guest Blogger Of The Month, Lucy Siegle, Paris, People Tree, Philosophy, Polyvore, Sadie's Wardrobe, sustainability, Sustainable Fashion, twitter