What is the name of your blog?
Tells us about your blog and why you started it.
My blog has gone through quite a few names and styles over the years, and it has transitioned slowly into what it is today; Just Rach. I think it began in my second year of university, as a sort of online diary and over the last four years it morphed into a fashion, beauty, lifestyle and occasional geekery blog. I've always been passionate about reading and writing, but uni work put a dent in the number of books I could devour without feeling guilty that I should be reading academic pieces instead. It's always been a dream of mine to become an author one day, but I don't know if I'd have the time, commitment or imagination to accomplish this – in a way my blog is like the book I'll never write; a long and intricate autobiography of my own life. That's why I've finally settled on the name Just Rach, because everything you get on my blog is simply just me 🙂
Why is sustainable fashion so important?
While I don't really ever write about sustainable fashion, I do love to promote sustainable brands that I sometimes come across. I am relatively passionate about sustainable living and my ultimate aim is to live a life that is 100% green. To me this would mean sustainable fashion, eco-friendly beauty products and sensible eating habits. I often have day dreams about living in a sustainable wood home, powered entirely by ground source heating, wind and solar generators! I'm all about planning for the future, I love to think about and imagine what life will be like for the generations ahead of mine. I don't want to leave this world knowing that I didn't do everything within my power to ensure that those surviving me live on a planet that they're proud to call home.
How would you describe your style / fashion sense?
I think I'd have to say I'm a relatively classic dresser. I don't particularly follow the main fashion trends, I'm more likely to stick with what I know, love and what catches my eye. (Although, my favourite tee is a blue superman one – so I do occasionally give in to the little kid inside of me!) I gravitate towards pieces that I know will form staples in my wardrobe and will last me years – I'm not a huge fan of the season-to-season throw away fashion that seems to be the favour of the high street stores over the last couple of years. I love flattering cuts, sweetheart necklines, classy dresses, shirts, skinny jeans and any cute pair of flat shoes. I seem to have a never ending collection of coats, I think a good coat is so important – I've had most of my coats for a few years now and I can't imagine passing them on any time soon. I also have a bit of a shoe obsession – a girl never can have enough shoes, there's always the perfect pair for any outfit. I'm happy to spend more on a quality piece if I know it will last me a long time.
Who do you admire in the world of fashion?
This is a tough question, because I don't really admire anyone specifically. I think I'm always quite in awe of those who really push the boundaries of fashion. Those who aren't afraid to try something really out-there. I'd never have the confidence or fashion-savvy to try something that I'm not 100% comfortable about wearing.
What are your favourite brands and why?
Although the majority of my favourite clothes come from shops like Zara, Mango, H&M, Jack Wills, Hollister and Henry Hunt – my ultimate favourite places to browse and shop are online boutiques, etsy shops and bloggers wardrobe clear-out sales. I love the idea of finding one-off quirky pieces from indie sellers and blog sales are so great for recreating the style of your favourite fashion bloggers.
What are your top tips for buying fashion products?
For me, the most important advice I could give would be to avoid throw away fashion trends and to pick classic, timeless pieces that you know you'll be wearing for years. Think about your choices more carefully – do you really love that neon pink and yellow zebra striped cat-suit? Or is it something you'll wear once because you saw your favourite celebrity in it, and then it'll be confined the the depths of your wardrobe for years to come?
What are your plans for the future?
Akin to my opinion on the importance of being sustainable, I'm driven by what the world will be like for future generations in other ways too. My ultimate passion and dream job (aside from astronaut, video-gamer designer (or beta-tester) and professional blogger) is to become a teacher. Specifically a primary school teacher. I think it's so important that, as well as academics, kids learn good morals, the difference between right and wrong, and a fiery passion for learning and reading – this is what I hope to achieve as a teacher. Perhaps I'm expecting too much? But, as long as just one student looks back and can say that I was inspiring to them, I'll be happy in the knowledge that I've accomplished my ultimate life goal. As far as Just Rach goes – I hope I'll be blogging away until I'm old and grey, documenting every little twist and turn that comes my way.
What are your 3 top picks of the Fashion Compassion website?
I think this is my favourite question of them all! I took such a long time choosing just 3 picks, there are so many beautiful pieces! In the end I settled on the Bhalo Pineapple Dress, the Bhalo Streamer Skirt  and the Sougha Moon Clutch!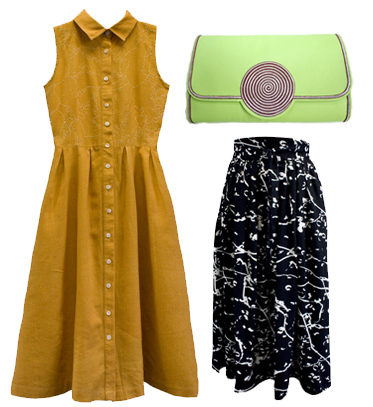 Check out Rachael's 'Just Rach' blog here.
Rachael is also on Twitter – @JustRachBlog and on Facebook
Tags: beauty, Bhalo, brands, clutch, Etsy, fashion, Fashion ComPassion, green, Guest Blogger Of The Month, Just Rach, lifestyle, passion, Pineapple dress, Sougha, Streamer Skirt, sustainablity