What is the name of your blog?
Tells us about your blog and why you started it.
I write a blog about fashion, but fashion not in the traditional sense. I write about sustainable fashion, which encompasses shopping expeditions in opportunity shops, charity shops, thrift stores, vintage stores, markets, garage sales, car boot sales, online stores and auctions to find recycled fashion wardrobe pieces.
After the birth of my first son, I enjoyed the change in my life, but do admit to finding the adjustment from full time work to stay at home mother really difficult. I always remember my husband saying to me at this point "you need a hobby" and laughed at him! But, he was right, I did need a creative outlet to focus on. I'd always enjoyed writing, and sourcing second hand fashion, so combined the two together which became my blog; Recycled Fashion.
Why is sustainable fashion so important?
Fashion can be damaging to the environment, from the dyes and chemicals used in the process, through to the waste generated by our throwaway nature of cheaply produced 'on trend' clothes.
By choosing sustainable fashion, we are kinder to our planet, and to the people that make our clothes.
How would you describe your style / fashion sense?
Eclectic, I wouldn't really say I have a style, anything goes, but I don't like to follow trends.
Who do you admire in the world of sustainable fashion?
I think Vivienne Westwood is doing well to fly the sustainable fashion flag.
What are your favourite ethical brands and why?
Because I favour recycled fashion, I tend to prefer brands that repurpose existing fabric, such as Junky Styling and Queenie & Ted.
What are your top tips for buying ethical and sustainable products?
I always say to choose recycled before buying new as a priority, otherwise to I'd say when choosing a new garment to buy, do a little bit of research behind the brand first, and make sure you are happy with their ethics before parting with your hard earned cash.
What are your plans for the future?
Part of my blog writing involves refashioning op shop clothes into new styled pieces. However, I've got to the stage now where I don't really need that many clothes for my own wardrobe. I am in the process of linking up to op shops (charity shops) close to my home, take damaged or un-wearable clothes and refashion them into new stylish pieces. I plan to document how I did so on my blog, then donate back to the op shop for resale.
What are your 3 top picks of the Fashion Compassion website?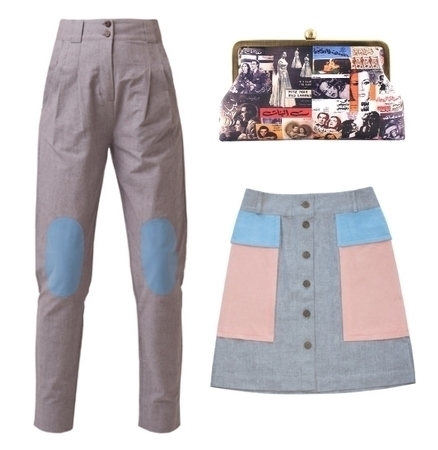 Check out Erica's Recycled Fashion blog here.
Erica is also on Facebook and Twitter.
Tags: Bhalo, charity, environment, ethical, Guest Blogger, Guest Blogger Of The Month, Junky Styling, Queenie & Ted, Recycled Fashion, Sarah's Bag, second hand fashion, Sustainable Fashion, vintage, Vivienne Westwood