With Christmas just around the corner, we here at Fashion ComPassion HQ are getting into the festive spirit and writing up our christmas wish lists! We thought long and hard about our favourite ethical and sustainable fashion products and, after much consideration, we've managed narrowed our list down to 10 items.
So, without further ado, here is Fashion ComPassion's top 10 must-haves for Christmas 2013!
1. Midori Dress – Beautiful Soul London
Be bold in Beautiful Soul London's 'Midori Dress'.
We featured Beautiful Soul London as part of our Esthetica blog post earlier this year. Based in Notting Hill, Beautiful Soul London is a luxury womenswear label which employs the most exquisite fabrics, including British wool, British lace, organic and Fairtrade fabrics, giving their customers an alternative, more ethical choice that does not compromise luxury. In Beautiful Soul London's statement Ladybird Peach print, the Midori dress is cut from Silk Habotai. We love this piece as it brings a little daring, yet timeless edge to your wardrobe and it is sure to make heads turn!
2. Climate Revolution Knot Wrap – Lush & Vienne Westwood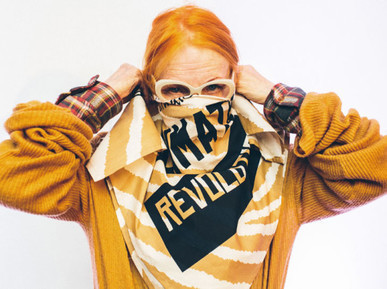 Legendary British designer Vivienne Westwood has joined forces with Lush to create a limited-edition "Climate Revolution" knot-wrap for the holiday season. Woven in Britain from 100% organic cotton, the fabric square can be used as a waste-free alternative to disposable gift wrap, worn as a headscarf or bandana, or even framed as art. We love this product because all the profits from it will go towards funding climate change campaigns and sustainable solutions.
3. Ba'ali Earrings – Inaaya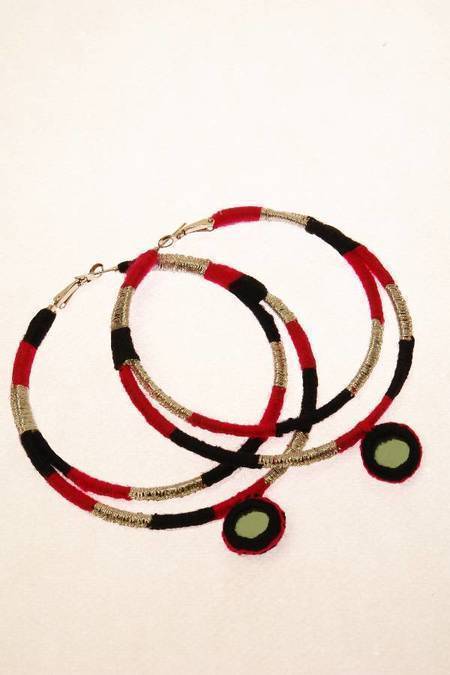 We introduced Inaaya jewellery to our shop at the beginning of this year and since then they have become one of our most popular brands. This socially conscious brand combines classic Sindhi design and embellishment techniques with artisanal production and interprets them through the lens of contemporary fashion. What's great about Inaaya is that they with female artisans in rural impoverished areas of Pakistan and provide them with jobs and income, helping to bring a positive change in their lives.
4. 'Putting The "Kind" In Mankind' White Tee – Black Score & People Tree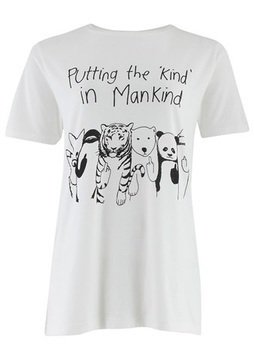 People Tree is recognised both by customers and fashion industry experts as a pioneer in Fairtrade and environmentally sustainable fashion. For over twenty years, People Tree has partnered with Fairtrade artisans and farmers in the developing world to produce a collection of ethical and eco fashion. Recently,  People Tree collaborated with designer Simeon Farrar and his label Black Score to create a range of playful political t-shirts and sweatshirts featuring sketches of animals with cheeky captions such as 'Putting the "Kind" in Mankind' and 'Didn't need the icecaps anyway, douchebag'. Not only do we love the design, but we also love that it is made from 100% Fairtrade certified cotton, keep with People Tree's high ethical standards.
5. Blackcurrant Liquorice Aimee Shorts – Who Made Your Pants?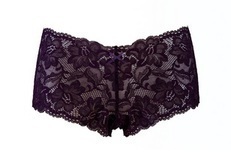 Based in Southampton, UK, Who Made Your Pants? is a campaigning lingerie brand who are passionate about amazing pants and amazing women. Their philosophy is that every day should be a good pants day, and that there should be a little bit of gorgeous under everyone's clothes, something just for them. WMYP buy fabrics that have been sold on by big underwear companies at the end of season, stop them ending up as waste and turn them into amazing underwear that have a great start in life. Moreover, they employ women who have had a hard time and provide them with the training and skills they need to get ahead. That's what we love about WMYP products, every time you buy a pair of our pants, you're keeping another woman in a job.
6. Plum Sateen Supa-Skinny Jeans – Monkee Jeans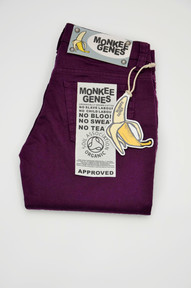 Monkee Genes was born in 2006 out of a frustration and boredom with the jeans market and offers a fresh, vibrant and youthful direction. Their ethos is to manufacture with conscience and without sweatshop labour. In a world of cheap and disposable fashion manufactured without soul or identity, Monkee Genes offers an antithesis. We love their innovative fits and style lines in top of the range fabrics, classic denims with a retro twist  in pop art inspired colours.
7. Mini Straight Diskette Pop Black Clutch – Sarah's Bag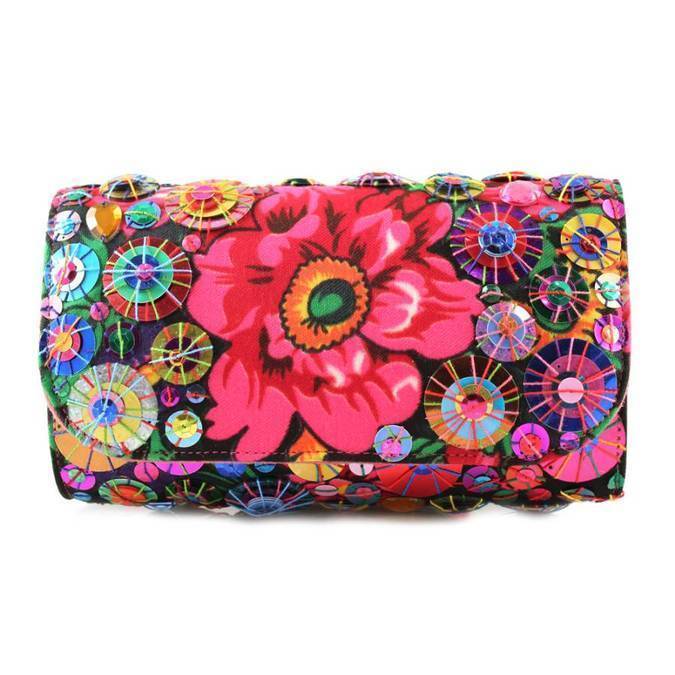 Sarah's Bag was another socially responsible brand we added to the Fashion ComPassion shop this year. Described as feminine, fresh and fashionable, this brand aims to be distinctive, vivacious, and elegant with a hint of retro glamour and street-wise sensibility. Sarah's bag allows women at risk from economic deprivation or the stigma of having served time in prison to learn valuable skills in return for a reliable income and a stable source of pride, dignity, and empowerment. We love the Mini Straight Diskette Pop Black Clutch because of its eye catching design and bright colours!
8. Dip Dye Socks – The North Circular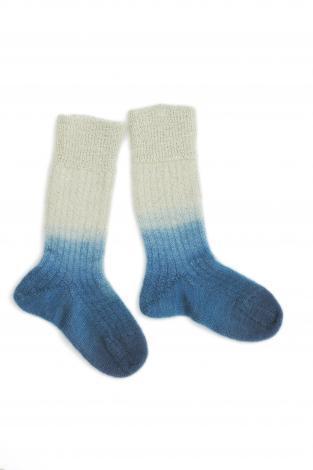 The North Circular utilises the talents of grandmothers and fashion models to create knitwear 'over rich tea biscuits and gossip'. Founded by models Lily Cole and Katherine Poulton, The North Circular sees contemporary knitwear exclusively made from rescued Wensleydale sheep, with the expert hand knitting skills of  'grannies, girls. …and a few strong men'. This brand wanted to return value to the hand made product, personalise the process of production, rekindle the relationship between the producer and the purchaser – knitter and scarf wearer. Not only do we love simplicity of these hand dyed socks but we also love that it has been made with 100% British Wensleydale Wool, bringing production back to the UK.
9. Snowflake Alpaca Jumper – People Tree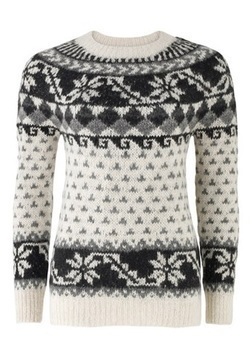 Ditch the ironic ugly christmas jumper fad with this goregous snowflake jumper from People Tree! Made from 100% alpaca wool, this jumper is made by Minka, a Fairtrade network providing artisans in Peru access to international markets. A great addition to your festive wardrobe that sure to make you stand out from the crowd!
10. Army Shirt Dress – MIA by Mia Nisbet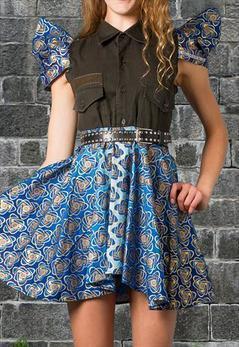 MIA by Mia Nisbet combines traditional Malawian fabrics and upcycled materials to produce a collection that fuses the richness of African textiles with Western styling. Mia works with producers in Malawi to create ranges which turn this challenge into an opportunity. Collections are designed and marketed to the international fashion market and then the profits are reinvested in communities in Malawi as well as in the training and equipment.These one of a kind pieces really make an impact, both visually and sustainably!
What do you think of our Christmas wishlist? Which is your favourite piece? Do you have a suggestion for our wish list? Let us know in the comments!
Tags: Beautiful Soul London, Black Score, Christmas, climate change, Climate Revolution, Ethical Fashion, fairtrade, Fashion ComPassion, Inaaya, Lush, MIA by Mia Nisbet, Monkee Jeans, organic, People Tree, Sarah's Bag, Sustainable Fashion, The North Circular, upcycled, Vienne Westwood, Who Made Your Pants?, wish list