Fashion ComPassion is proud to announce that its socially conscious accessories brand 'Palestyle' has been chosen to be sold at the British Museum Grenville Room from 26th Jan, 2012. 
The Palestyle collection will coincide with the British Museum's Hajj Exhibition in London and the museum will be stocking a collection of signature clutches and wallets, crafted from genuine leathers and adorned with gold-plated Arabic calligraphy, with 5 translations: Secret of Your Beauty, Magic of Your Eyes, So Adorable, Like An Angel and Charming as the Moon (pictured below).  In addition, an exclusive clutch designed especially for the exhibition is a luxurious handmade clutch with silver grey genuine leather with a python print.  The gold-plated calligraphy plaque reads,  Al Hayat Rihla" which "Life is a Journey" specifically symbolizing the Hajj Journey, with Asfour Crystals surrounding the plaque and a golden chain with leather padding (pictured below).
Other bags below: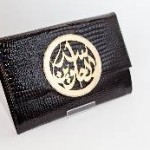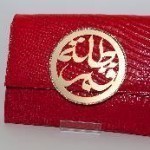 "Fashion ComPassion is delighted to be working with the British Museum.  We feel honoured to be showcasing the first socially conscious fashion brand from the Middle East, at The Grenville Room—it's a big win for ethical fashion to be part of this prestigious exhibition," says Fashion ComPassion founder, Ayesha Mustafa.
As one of the world's most prestigious centers celebrating human history and culture, The British Museum will be holding its Hajj Exhibition from 26th January to 15th April of 2012. The exhibition  aims to educate a global audience on the significance and history of the Islamic pilgrimage of Hajj, allowing non-Muslims to explore the faith visually through artwork, textiles and manuscripts dating back to the time of the Prophet Muhammad in the 7th century A.D.
Palestyle's collection can proudly be found on our website and together promoting education, employment and self-sustainability for marginalized women in war-stricken societies, it is a monumental achievement for both Fashion ComPassion and Palestyle to be recognized in the British Museum's exhibition.
We hope you have the chance to visit our display in the Grenville Room!
The FC Team
Tags: british museum, Fashion ComPassion, grenville room, hajj exhibition, London, palestyle, Socially Conscious Fashion