Aimee Kent is a Glasgow based fashion designer, specialising in ethical printed textiles and fashion. Inspired by her love of African fabrics, travel and foreign architecture, Aimee creates bold eye-catching prints with a tribal style twist, using a combination of traditional hand-painting and screen printing methods and digital textile design.
Since graduating in Textile Design from the Glasgow School of Art in 2010, Aimee has gone on to collaborate with some of the industry's top fashion designers and brands, including; Marc Ross, EMI Music, Niki Taylor (of labels The Top Project and Olanic), Bonnie Bling, Johari and, more recently, Fantoosherie. Her collaborative designs with the award winning Henrietta Ludgate have earned her worldwide acclaim and have been featured at the London, Paris, Milan, Athens Fashion Weeks, as well as the Scottish Fashion Awards. Aimee's designs have also appeared in several fashion magazines, online websites and blogs including Vogue.com and Marie Claire.
Aimee recently launched her own ethical printed textiles and fashion design studio in Glasgow, aiming to produce innovative products and prints using ethically sourced materials and processes. Being committed to green and ethical production lies at the very core of her business, recognising the demand for an environmentally friendly, sustainable production technique. As well as adhering to several ethical production principles, such as strict recycling of waste packaging and printing onto only organic or recycled fabrics, Aimee also offers workshops and training for local designers. This ensues the continuation of traditional craft skills as well as promoting sustainable production methods.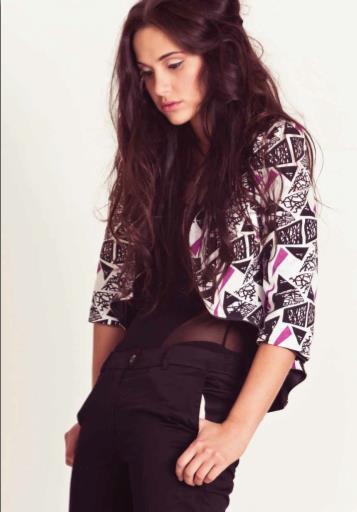 Her new boutique offers a range of trend-setting, sustainable fashion and lifestyle products, as well as one-off limited edition up-cycled fashion garments and decorative interiors items.
For more information, check out her website.
Twitter: @AimeeEKent
Facebook: AimeeEKent 
Images credit: Aimee Kent
Tags: African fabrics, aimee kent, Athens, Bonnie Bling, EMI Music, ethically sourced materials, Fantoosherie, Fashion Week, Glasgow, Glasgow School of Art, Henrietta Ludgate, Johari, London, Marc Ross, Marie Claire, Milan, Niki Taylor, Olanic, Paris, printed textiles, Scottish Fashion Awards, screenprinting, Sustainable Fashion, sustainable production methods, The Top Project, traditional craft skills, up-cycled fashion, Vogue