Earlier in the week, we posted a blog about Chime For Change, Gucci's newest global campaign for female empowerment which was launched last month by Frida Giannini, Salma Hayek Pinault and Beyoncé Knowles-Carter. This week, the initiative held its first ever London press conference to announce THE SOUND OF CHANGE LIVE, a global concert event highlighting girls' and women's issues, which will be taking place at London's Twickenham Stadium in June of this year. The press conference also marked the premier of SOC Film's first International Film, 'Humaira: The Dream Catcher', directed by academy award winning filmmaker Sharmeen Obaid-Chinoy.
(Left to Right) Marlane Pearl, Salma Hayek Pinault, John Legend and Sharmee Obaid Chinoy at the CHIME FOR CHANGE press conference. (Photo via Lotus Public Relations).
This short documentary celebrates the achievements of Humaira Bachal, an activist and educationalist based in the Muwach Goth area of Karachi, Pakistan. As a child, Humaira fought against her family and community in order to gain an education, and is now making education accessible to other children in Muwach Goth. Through her unwavering determination and unbreakable spirit, Humaira has successfully educated over 1200 children and is working tirelessly to change current attitudes towards education in her community. The Dream Foundation School charges its students a nominal fee of one cent per day.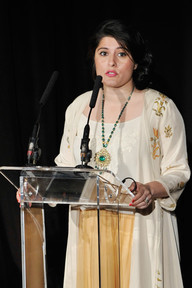 While at the premiere of 'HUMAIRA', Sharmeen Obaid-Chinoy said, "As a social justice documentary filmmaker I wanted to make a film about education that would make audiences sit up and smile with hope. Humaira Bachal's life and struggles to provide education to the young women in her community is inspiring not only because she leads from the front, but also because her no nonsense attitude forces the men in her community to listen to what she has to say. I think her message would resonate with people around the world, especially women on the front lines who risk their lives every single day to kick open new doors for the next generation."
The press conference was co-hosted by Hollywood actress Salma Hayek Pinault along with Mariane Pearl and John Legend.
To watch 'Humaira: The Dream Catcher', click here.
For more information about the Chime for Change campaign, click here.
Tags: award winning filmmaker, Beyoncé Knowles-Carter, Chime For Change, Dream Catcher, Dream Foundation School, education, Fashion ComPassion, Female empowerment, Frida Giannini, Humair: The Dream Catcher, Humaira, Humaira Bachal, International Film, John Legend, justice, Karachi, London, Mariane Pearl, Muwach Goth, Pakistan, Premier, Press Conference, Salma Hayek Pinault, Sharmeen Obaid-Chinoy, SOC Films, social, social justice, Soho, THE SOUND OF CHANGE LIVE, Twickenham Stadium