1. What is Sweet Cavanagh?
Sweet Cavanagh is a unique jewelry brand where all the designer-makers are women in recovery from eating disorders and addictions. Our workshop is not only a place of creativity and design, but also of personal growth where the most brilliant life changes are made. Each designer cultivates her own style, which often develops as her confidence and self-esteem grows.
2. Why did you decide to launch a socially responsible label?
The first reason for starting this company was to create a place where women could come and get free support whilst fighting to find recovery. I recognized a gap in the services offered by the NHS and realized that there is next to no free care for people suffering with eating disorders. In my own personal experience I found jewelry making to be very therapeutic, so I realized that if we could combine both the recovery aspect and the design aspect, we could potentially make a social enterprise. It was only when my partner Maxine came on board that we were able to fully realize our potential. As a licensed therapist Maxine has added a whole new dimension to the workshop and we now offer one on one and group therapy in addition to the jewelry-making workshop.

3. What was the inspiration behind the collection?
Our collection is inspired by the courage and strength demonstrated by each of our craftswomen day in and out. Each of these women has overcome tremendous hurdles to be where they are today. The bright colors and bold designs reflect their creativity and unique personalities, which they are finally getting to experience as they embrace recovery. Each designer has her own sense of style, making our collection eclectic and oh so special. Each piece is one of a kind, as are each of our craftswomen.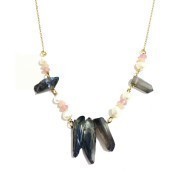 4. Tell us about the positive impact Sweet Cavanagh has had on the people and the environment.
Research has proven that jewelry making can augment one's well being by increasing one's self esteem and reducing stress and anxiety, all of which reduce one's risk of relapse.  Coming to our workshop also helps women to build a sober support network; thus, combating the isolation that is often faced by those suffering from addictions and/or eating disorders. Our program gives women a place to go and introduces them to women who understand their history. This gives them accountability and enhances their feelings of connectedness, thus reducing loneliness. The support groups and individual counseling that we offer further enhance these assets. In the past year, Sweet Cavanagh has helped over twenty women transition back into full time work and/or education.
Sweet Cavanagh also gives women an opportunity to become self-employed as jewelry designers and creators by paying each woman a living wage for each piece of theirs that sells. This is especially important, as many women have been in treatment and out of work for quite some time. Additionally, individuals are given the opportunity to learn about the business side of the enterprise, which allows them to develop skills in marketing, advertising, and data entry, all of which will enhance their feelings of confidence as well as their CV! This sense of purpose is something that many could not have imagined when they were in the depths of their illness.
While Sweet Cavanagh strives to have a high social impact, we do try to have a small carbon footprint. We strive to source our materials locally and LOVE to support other social enterprises when selecting beads. Many of our pieces are made from recycled and vintage beads. Re-working old jewelry and giving it new life is a special process. Similar to our treatment of disorders, we try to see the positive in everything and be grateful for what we have in our lives.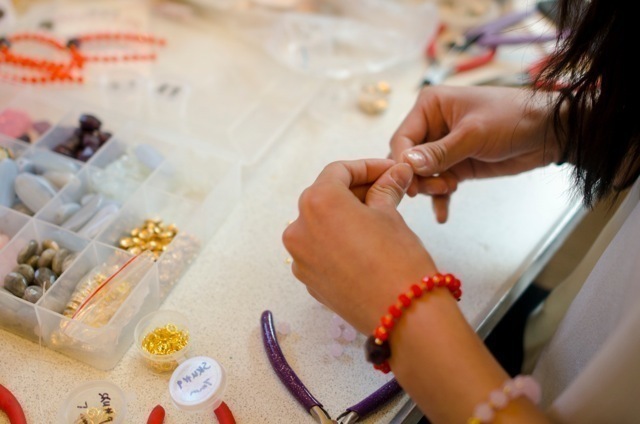 5. Why is a platform like Fashion ComPassion important for the growth of sustainable fashion businesses?
In a world where people are focused on getting more for less, platforms like Fashion Compassion are essential for sustainable fashion businesses. As with many ethical brands, our budget is limited and we depend on every sale; thus, having the support of a larger company is imperative. Additionally, our craftswomen are made to feel all the more special as they see their pieces on a bonafide website, alongside other beautiful products. The pride they feel when a piece is sold is also something that can't be monetized. We feel honored to be grouped in the same category as the other brands on the Fashion Compassion page. It is wonderful to be appreciated as an ethical fashion brand whose pieces make a difference in the world.
Tags: bold jewellery, Ethical campaigns, Ethical Fashion Boutique, handmade accessories, Socially responsible brands, sustainable accessories, sweet cavanagh, women artisans