The 2013 awards season got off to a fine start last Sunday as the winners of Golden Globes were revealed in a glamorous live ceremony in Beverley Hills, California. Going into it's 70th year, the Golden Globes is one of the most important annual award ceremonies in the US, recognising and honouring excellence in film and television over the last 12 months. This year's ceremony also proved exciting for the sustainable fashion movement as it saw Bradley Cooper becoming the latest Hollywood star to join Livia Firth's Green Carpet Challenge. The Golden Globe nominee arrived on the red carpet sporting a bespoke two piece black suit designed by Tom Ford.
Bradley's suit was made from OEKO-TEX® certified, low environmental impact, European spun and woven wool suiting. (Image credit: Eco Age)
This is not the first time that Tom Ford has worked with Green Carpet Challenge. In 2012, he designed Julianne Moore's green cowl necked cocktail dress, made from recycled vintage velvet, for the premier for "Game Charger". Ford was also one of the nine designers who in participated in Eco Age's Green Cut initiative last October, designing and creating a sustainable dress inspired by John Schlesinger's film 'Darling'.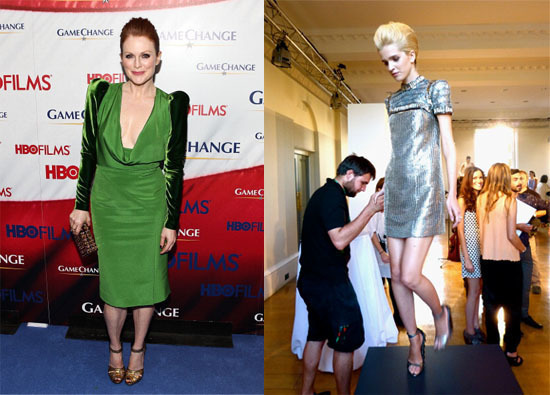 Writing on her Eco Age blog, Livia Firth said that Tom Ford is "something of a mentor to us in our quest to merge ethics with aesthetics; He really 'gets it'. He will never compromise and that's what we love about him". Since 2009, the eco fashionista has been taking sustainable style and innovation to some of the world's biggest red carpet events, claiming that fashion has an important role in promoting social justice, environmental integrity and brilliant ethical design with a conscious. Now entering into it's 4th year, the Green Carpet Challenge has amassing an incredible list of collaborators and designers, including Valentino, Gucci, Paul Smith, Lavin, Dolce and Gabbana and Prada.
To find out more about GCC, check out their blog.
Photo credits: Eco-Age
(Twitter – @eco_age Facebook – Eco-Age)
Tags: 2013, Award Ceremony, Bradley Cooper, eco age, environmental integrity, ethical design, Golden Globes, Green Carpet Challenge, Julianne Moore, Livia Firth, social justice, Sustainable Fashion, Tom Ford