Berlin Fashion Week started in the summer of 2008 and is a twice a year event showcasing some of the most fantastic designers. Featuring many outstanding fashion shows, featuring the newest accessories, clothing and fashion trends.
This summer 2014 the GREENshowroom and Ethical Fashion Show took place from the 8th – 10th of July at Hotel E-Werk and Adlon Kempinski, showcasing over 100 different eco brands.
'Eco fashion does not only involve the use of renewable ecological materials, it also implies fair trade practices with respect to business partners' and being able to have a continuously growing audience for sustainable fashion at Berlin Fashion Week is outstanding, the number of attendees are increasing in the hundreds every year.
This year's event was bigger and better, due to the  growth in  the eco and sustainability market  not only in Berlin, but internationally as well. Further there is a bigger consumer demand  for products manufactured in an ecological and socially responsible manner which has contributed to a increase in the number of brands showcasing at Berlin Fashion Week.
Here at Fashion ComPassion we are always keeping an eye on sustainability and support any movement that spreads awareness of a sustainable lifestyle. So here are some of our top picks for Berlin Fashion Week's ethical and eco brands.

The GREENshowroom redefines the meaning of luxury in an exciting and contemporary way, showing that luxury sustainable fashion is the future.
'Luxury means to us true values – Brands and products with a story to tell, working in respect to the environment and yet with the main emphasis on design.'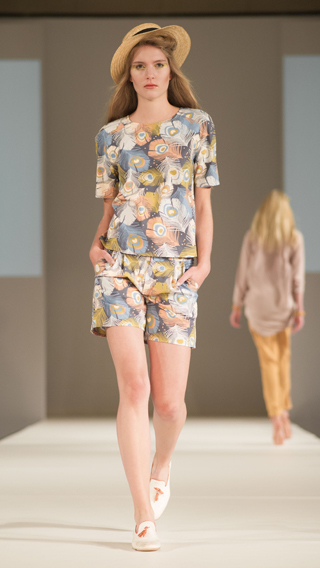 The gorgeous pastel ensemble by Johnanna Riplinger and Maria Seifert will look fabulous with or without a tan!
The contrast of business chic from Skrabak and casual bohemian from Edelziege is perfect for the business to beach look.
The gorgeous gold accented outfits from Luxaa and Katharina Kaiser are so on trend with the lace detailing and simple styling.
The Ethical Fashion Show, provides a permanent home for the professional eco trade fair, showcasing all sustainable fashion labels.
Based around a visionary concept to provide a place to show innovative street fashion and casual wear brands, the Ethical Fashion Show upholds a certain quality for ecology and ethics, making sure the customer knows which materials and under what conditions their clothing is made.
Some of our favourite exhibitors where Antonio Verde's handcrafted bamboo sunglasses, Designs By Sonja's 'minimalist and modern' clothing, In Heels' ethically friendly fashion and O My Bag's striking eco leather accessories.
'The future of the high-end lifestyle sector lies in the combination of luxury and sustainability.' – green-showroom.net
Let us know what your favourites were, and email us on news@fashioncompassion.co.uk.
For more information visit Berlin Fashion Week's website or visit Ethical Fashion Show Berlin's  & GREENshowroom's Facebook video
Photographer credit: Timur Emek/Getty Images
All information sourced from fashion-week-berlin.com, green-showroom.net and ethicalfashionshowberlin.com.
Tags: Antonio Verde, Berlin Fashion Week, Designs By Sonja, eco, Edelziege, environment, Ethical Fashion, Ethical Fashion Show, ethically sourced, Fashion ComPassion, GREENshowroom, In Heels, Johnanna Riplinger, Katharina Kaiser, Luxaa, luxury, Maria Seifert, movements O My Bag, Skrabak, Sustainable