Story
Fashion ComPassion is a uniquely curated online marketplace of impeccably stylish ethical and sustainable fashion accessories. Our beautiful investment pieces will set you apart from the ordinary, whilst contributing directly to the brands we work with and their communities.
We bring together discerning fashion lovers like you with cruelty-free brands that are committed to social and environmental responsibility. We make it easy for you to build a collection of meaningful, fashion forward wardrobe essentials that will have you looking and feeling great. Our goal is to deliver fashion with purpose.
We connect conscious consumers to responsible brands that tell a story about positive change. Every brand that we source upholds our ethical and sustainable fashion criteria, which is focused on eco-friendly sustainable design and ethical production. We thoroughly research the brands before they appear on our site, making every effort to personally interview them, allowing us to get a full picture of how they operate. A socially responsible supply chain is core to the collections created by our brands.
About the founder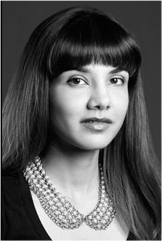 Ayesha Mustafa founded Fashion ComPassion in 2011 following a career as a marketing executive for PepsiCo UK. The decision to start her own business came at a time when she had to decide between the corporate ladders or to follow her true passion. She went for the passion and combined her two biggest interests: fashion and social enterprise.
Ayesha never lost sight of her first internship at age 16 with the Grameen Bank. Working with Bangladesh's Nobel Peace Prize-winning micro-financier, Muhammed Yunus provided Ayesha with first-hand experience of how community development and business could transform underprivileged women, their families and society through economic empowerment.
Ayesha travels the world to discover unique sustainable fashion brands and aims to show the positive, creative and upbeat side of the countries and cultures where the brands are made. Ayesha is a thought leader in sustainable fashion, provides consultancy to ethical brands, and speaks at various organizations and forums on ethical and sustainable fashion.
Fashion ComPassion is redefining fashion for a new generation who want their consumer power be a catalyst for positive change.
For more info on Ayesha, please visit www.ayeshamustafa.com